December 24, 2010 by Vincent
Free: Returnil System Safe Pro for 1 Year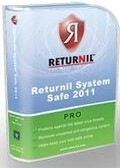 Your computer might have an antivirus installed, but disaster can still strike at the least expected time, especially when you are sharing it with someone less tech-savvy.
Returnil System Safe Pro is an antivirus famed for its system restore feature. With it, you can be assured that everything will be fine no matter how harmful the websites you are visiting or the new software you are installing, because everything can be rolled back by just a reboot.
You can learn more about Returnil on PCMag.
A 1-year subscription of Returnil System Safe Pro would normally cost $39.95, but it's going free this Christmas. Just fill in your particulars in this product giveaway page and you will be on your way.
Merry Christmas 🙂