November 22, 2010 by Vincent
How to Remove Ads from Windows Live Messenger 2011
Microsoft bundled the all new Windows Live Essentials 2011 pack in a recent Windows update, which includes Windows Live Messenger 2011 (15.4.3502.0922).
WLM 2011 sports a Windows 7-ish user interface, tabbed chat window, Bing integration, Facebook integration, and has an overall cleaner look comparing to the earlier version.
But if you have previously removed the advertisements in the earlier WLM version, the ads will now be back to haunt you. It takes up considerable amount of screen real estate, and most annoyingly, it expands when you roll over the ad.
The good news is, the developer behind A-Patch, who is responsible for removing ads from all previous versions of Windows Live Messenger, is as active as ever.
At the time of writing, A-Patch was last updated on 16th November 2010 and has the following customization ability over Windows Live Messenger 2011: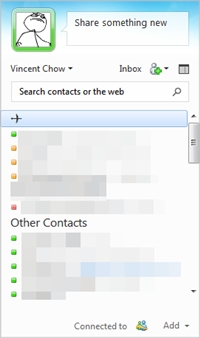 Remove banner ad from contact list
Remove text ad from chat window
Remove nudge delay
Disable nudge shake
Remove search bar
Accept more than 3 files transfer at a time
Remove the top of contact list
Remove the "Connected to…" bar
Remove the "See More Offerings" items in the file menus
Remove "Featured" section from the Emoticons "more" dialog box.
Polygamy: open more than one messenger simultaneously
My display picture says it all 🙂