This is an advertorial. All opinions are fully mine and unbiased.
I like the notion of having a tablet the moment Apple's iPad came around. But after all these years, even after the tablet market is flooded with Android tablets of different form factors and sizes, I'm still without a tablet. It's sure great to consume contents on a tablet while relaxing on the couch, but besides that, it wouldn't be very useful for anything else, in my case at least, and thus can't justify a purchase.
For starter, I absolutely hate carrying a bag in an outing. And I don't see how I can carry a tablet around without a bag. Until recently. With the debut of the Samsung Galaxy Note. And I'm not even sure if the device's a really super large smartphone or a mini tablet.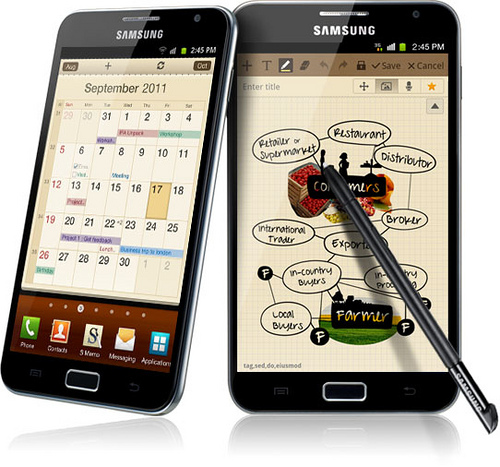 The Galaxy Note has an unconventional screen size of 5.3-inch, with a resolution of 1280 x 800 pixels. At its core, it's powered by a 1.4GHz dual-core Samsung Exynos processor and 1GB RAM. Like the Galaxy S II, it sports a 8-megapixel rear camera with LED flash capable of 1080p video recording and a 2-megapixel camera on the front. As with all high-end smartphones, the Galaxy Note also comes with an accelerometer, gyro, proximity sensor, and oddly, a barometer (sorry for my ignorance, but what's a barometer good for in a mobile device again?).
Again, as with most of Samsung's Android devices, save for the Galaxy Nexus, the Galaxy Note comes with Samsung's custom Android skin — known as TouchWiz. I have not personally used the interface before, so I can't comment on that, but I'd very much opt for a vanilla Android experience. Why? Because the last thing I want is not receiving an OS update, caused by nothing but a custom interface that isn't necessary any better than stock.
To be fair, the Galaxy Note is expected to be updated to Android Ice Cream Sandwich next year, but further upgrades are not guaranteed. And that's what plaguing Android as a platform, a crucial issue that remains unresolved.
That said, I'm still seriously considering Android to power my next smartphone (or tablet), after using the iPhone for over a year. I love the fluidity and sleekness of iOS, but I find the adventurous geek in me looking for more. The Galaxy Note seems to be the best device to bring drastic change to the familiar environment I started to get bored of, with a really huge screen, stylus, and an open environment.
But the ultimate deciding factor: Will it fit in my hand and pocket? I'll soon find out.
If you have five minutes to spare, here's an episode of Fact Checkers Unit, which briefly features the Galaxy Note: