December 12, 2008 by Vincent
McAfee Antivirus – Free Full Version Download
15th Nov 2010: Free 1 year subscription of McAfee Internet Security 2010.

Christmas came early this year. After optimizing your computer with the free TuneUp Utilities 2007, you can protect your computer from virus infections, spywares and such by having a 1-year subscription of the popular McAfee VirusScan Plus Firewall and AntiSpyware for free (worth $39.99).

Here's how:
Go to this checkout page.
Enter "VSPPROMOCF" (without the quotes) in the promotional code field.
Click on the checkout button.
Voila!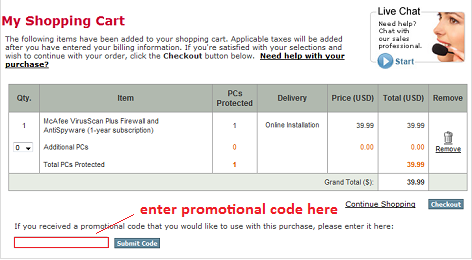 Promotional code will expire on December 31, 2008, so you better be quick. Only for Windows 2000, Windows XP and Windows Vista.
(via Digital Inspiration)