December 28, 2008 by Vincent
Why is my download speed way lower than what I'm subscribing?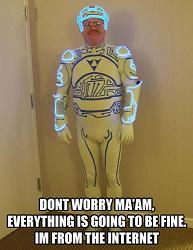 Question: I'm subscribing to a 1Mbps package from my local ISP. Why didn't my download speed get anywhere near there?
Answer
Most ISPs quote download speed in kilobit(kb) or megabit(Mb). In contrast, download speed displayed in internet browsers or P2P programs are displayed in kilobyte(kB).
1 byte = 8 bits
Therefore, if you are subscribing to a 1Mbps (1000 Kbps) package from your local ISP, your download speed would be at 122.07 kB/s. If you're unsure, you can use an online converter to determine your real download speed.
Now stop swearing or cursing your ISP whenever you see only 120kB/s download speed when you are subscribing to a 1Mbps package. You are indeed getting what you are subscribing for.