April 28, 2010 by Guest Author
9 Mobile Devices That Are Great for Bloggers
This is a guest post by James Adams.
If you're a blogger, then you need to be able to create new content on a daily basis. When you are at home, it isn't a big deal to run over to the computer every time inspiration strikes you. But what about when you are on the go? Here are a few essential mobile devices to help you become a better blogger.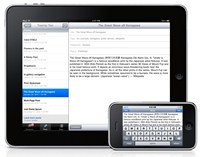 1. Apple iPhone – The iPhone has many tools that can help you as a blogger. Probably the iPhone's biggest strength is the vast size of the App Store. Whether you use WordPress or Blogger, you can manage your account right from your phone and quickly jot down important ideas.
2. Apple iPad – The iPad has all the benefits of an iPhone, but it is much easier to type on. You probably wouldn't want to type more than a few sentences on your iPhone, but you can type out a full blog post on the iPad if you wish.
3. Netbook – A netbook can bring you all the benefits of a full computer in a smaller – and cheaper – package. The downside is that netbooks usually aren't too capable of running graphic-intensive programs like games, but they are absolutely perfect for blogging. Netbooks are lightweight, so you can carry them everywhere and crack them open when you feel like writing.

4. Google Nexus One – If you aren't a big fan of Apple products, the Nexus One is a great smart phone from Google that offers a lot of the same functionality. One of the best things about the Google phone is that you can use it on practically any phone carrier – unlike the iPhone, which requires you to use AT&T.

5. LG Android Phones – The Korean manufacturer has been coming out with some really nice Android-based phones recently. One of the best aspects about LG Android phones is that they normally include a slide-out QWERTY keyboard for text input. This can make typing quite a bit easier if you don't like the new touchscreen devices.
6. Livescribe Pulse Pen – If you have a quick idea you want to remember, but don't want to go through all the trouble of launching an application on your phone or netbook, the

Pulse Pen can be a great solution. This device looks just like a regular pen, but it remembers everything you write with it. If an idea strikes you, just pull out the pen and scribble some invisible notes onto a table or a wall. When you plug the pen into your computer, you'll be able to see everything you've written.
7. Kindle – As a blogger, you've got to read a lot, and that is what the Kindle

was designed for. It may not have all the bells and whistles of the newer devices, but there are still a couple strong points in its favor. The battery life is superb, and it has an anywhere 3G connection to the Internet via Sprint's cellular network – with zero monthly charge.
8. Noise Cancellation Microphone – You may be able to quickly record yourself or conduct interviews with the built-in microphone on your phone or netbook, but there is a good chance that the sound quality won't be that great. For less than $20, you can usually find a good noise-cancelling microphone to hook up to your device. This will allow you to get crystal clear sound bites even in noisy places like coffee shops.
9. WiFi Keychain – The iPhone and Android devices have free apps checking for WiFi hot spots, but they require you to take out your phone, fire up the app, and continuously check for connectivity. Every blogger should have a keychain that will light up when you are in a free WiFi zone. You'll always know if you're in a place where you can blog. You can find these for less than $10.
Mobile blogging can be a great way to get more blogging done in less time. If you use some of these tools, you'll be able to make your job much easier.
James Adams is a blogger who works for a UK based supplier of HP 351 ink and toner. He helps to run their Cartridgesave.co.uk where he posts about gadgets and design.