November 21, 2010 by Vincent
Alertful: Create Visually Appealing Email Reminders
Why is there a need for email reminders when there are so many other to do application, be it web based, mobile app or desktop software? Because you can never go wrong with reminder redundancy to ensure you don't miss any task with costly consequence.
I've personally subscribed to MobileMe's 2 month free trial, and if I don't cancel the subscription before the expiry date, Apple will automatically renew my subscription and charge my card accordingly. To depend on just a to do list or my phone's calender app might be too risky.
At Alertful, you can schedule free email reminders with minimal effort. No account registration, no signing in, just schedule and forget. At the Get Started page, you can select the nature of your reminder, which will determine the email template and mascot used in your email reminder (okay, the mascot is the same, only his action and bubble text is different).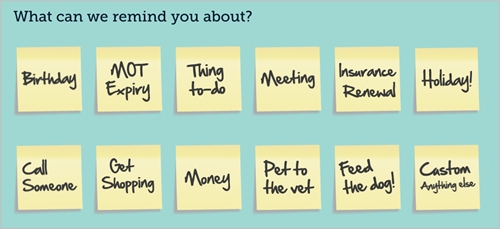 After selecting your reminder category, fill in your reminder title, date, email address, frequency (one off, daily, weekly, monthly or yearly), message, and a CAPTCHA.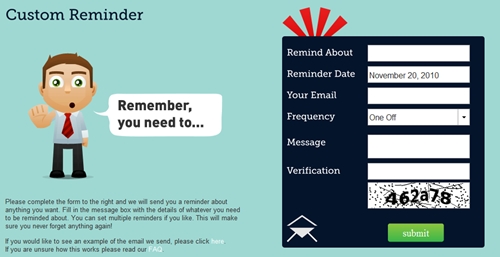 No email verification is required. Once you hit the "Submit" button, off you go. Meaning you can set up email reminders not only for yourself, but just anyone with an email address (that actually check their inbox).
Here's an example of the end result, the reminder email itself: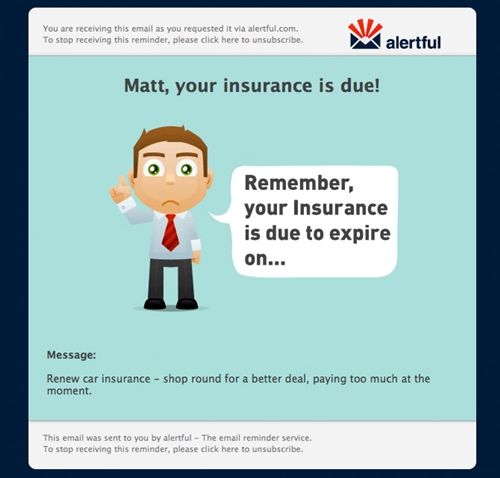 Emails are sent on the date you specified at 9AM UTC. It is rather disappointing that there is no way to specify the exact time and time zone to have the email reminder sent—meaning you can't count on Alertful for time sensitive reminders.