April 12, 2011 by Vincent
Apple Might Bring e-ink To iDevices with Hybrid Displays
In what seems to be the final blow to Amazon Kindle, a patent application made public this week shows that Apple might bring an e-ink-LCD hybrid display to the iPhone and iPad. Apple originally filled the patent application in 2009, named "Systems and methods for switching between an electronic paper display and video display".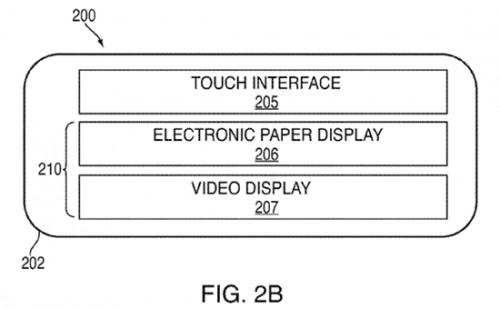 The said display is capable of switching from a full-blown color display to a more soothing e-ink and vice versa.
Divided into three layers, termed as "multiple composite display regions", the upper most layer is the touch interface, to register touch inputs. Under it is the "electronic paper display", or e-ink—and lastly, "video display" for color display.
When not in use, users can bypass the translucent e-ink layer and see the LCD display underneath directly. Both the e-ink and LCD layer can also work together, by displaying contents like text in e-ink and other media in full color display.
I have several e-book readers on my iPhone, including Kindle, but finds myself hardly using any of them. No doubt, these apps are all very well designed and there are plenty of high quality free e-books, but facing a bright tiny display for hours is really causing too much eye strain.
That is one reason why I sometimes prefer reading on a real physical book than an e-book. For the same reason, Amazon Kindle still has its own unique appeal to book readers albeit Apple's effort marketing iBooks on the iPhone and iPad.
If Apple were to implement e-ink on both the iDevice, it will definitely pose a serious threat to Amazon Kindle, the most gifted item in the company's history. There will be very little reason left for book readers to consider the Kindle instead of the more capable iPad, unless there's a cash constraint or a serious need of eternal battery life.
via AppleInsider