December 4, 2008 by Vincent
Area 51 – Free Full Version Game Download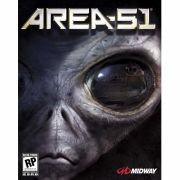 To all FPS games lover, here's something for you. Area 51, an FPS game published by Midway, is now released as a free game. Meaning you can download and play the game in full version, without paying a single penny. This is made possible by the sponsored advertisements, but I have not seen any after completing 16 areas out of the 18 areas of the game.

Game description:
The U.S. Army has received a distress signal from Area 51 where a viral outbreak has just shut down the research facility and the automated quarantine procedures have locked all scientific and military personnel inside. A small Special Forces unit including Specialist Ethan Cole of the HAZMAT (hazardous materials) Division is sent to investigate.

As Cole, players delve into the massive levels within the confines of Area 51, only to discover a deadly mutagenic side effect of the virus that controls the minds of those infected, as well as an ancient alien colony buried beneath the facility. Players will uncover the truth behind chilling conspiracies as they come across the remnants of the extraterrestrial crash at Roswell, alien autopsies, and the faked lunar landing.

Cole must solve the enigma of Area 51 before the viral mutagen is released and irrevocably mutates all life on Earth.
With a game guide, it wouldn't take too long for an average joe like me to complete the game. I'm about to finish the game in just 2 days, in Easy mode of course.
The game crashes quite often on my laptop powered by Windows Vista, and it's really frustrating when it crash right before you reach the next checkpoint. It would be crazy to have the autosave disabled in this case.
Video intro

Yes, Christmas came early. Download the 1.93GB setup file for free:
Direct download: midway_area51.exe
Mirror sites: gamershell.com – AusGamers – Strategy Informer
via MyDigitalLife