March 30, 2010 by Vincent
BatteryBar: Detailed Information on Laptop's Battery Life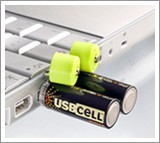 The default battery indicator on laptops powered by Windows XP, Vista and 7 shows only the most basic information—% of battery juice available, estimated time left before the battery dies off, and charging or plugged in. You are simply out of luck if you want to know more about your laptop's battery using it.
Whether you are a road warrior who cares much of your battery's health or is just simply curious about it, check out BatteryBar. It sits beautifully on the taskbar indicating the percentage of battery juice left or time left depending on preference. Hovering it will reveal:
Percent of battery juice left
Capacity of battery – e.g 12,443 mWh of 17,294 mWh
Charged rate – e.g 13,642mW
Battery life left in time – e.g 0:34
Full battery lifetime in time – e.g 1:00
A/C – connected or disconnected
Battery wear – e.g 700% of 57,720 mWh

Connected to AC power supply: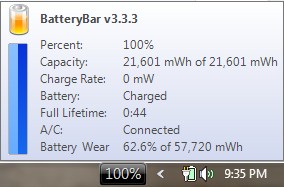 Discharging, disconnected from AC supply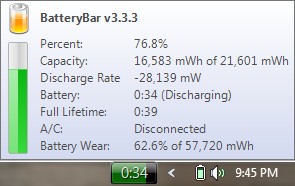 Charging
Accuracy of information
Quoted from BatteryBar's homepage:
BatteryBar constantly monitors the status of your battery as you use your laptop. As it monitors your battery, it keeps historical data on your battery and provide you with a very accurate estimate of how much time is remaining on your battery.
In short, the longer you have it installed, the more accurate it gets.
What's cool: The battery wear information is really awesome. With the numbers shown, you can't deny that you need a laptop battery replacement, or a new laptop even. Of course, unless your wallet disagrees.
What's not: You see, the default Windows battery indicator won't warn even if the battery juice hits rock bottom. Neither do BatteryBar, unless you upgrade to BatteryBar Pro ($3 to $10), which would also gives you a couple of extra settings.
P.s: Yes. My battery condition is that bad :/