April 25, 2010 by Vincent
Bought an Asus UL30VT Lightweight Laptop
For the past two years, I have been relying on my Dell Inspiron 1720, a 17″ laptop for all my computing needs. Since I have enrolled myself in a flying school last year September, located next to an airport near 2 hours drive away from home, I have been carrying that 4kg monster home and back to my hostel every weekend. To add more strain to my shoulders, I'm also carrying it to my class almost every other day.
I finally got enough of it and decided to get a new lightweight laptop with long battery life and reasonable performance. It makes sense now that I'm subscribed to a wireless broadband, I can basically carry it anywhere I want and get online at any location.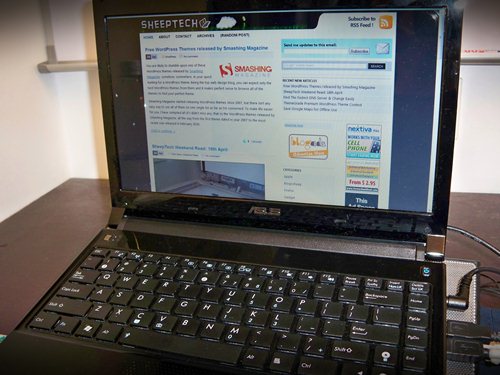 The Asus UL30VT fits perfectly in this category, something I would describe as "a device in between netbook and full fledged laptop".
Here's the specs:
1.3GHz Intel Core 2 Duo CPU U7300
2GB DDR3 RAM (upgraded to 4GB)
500GB Hard drive
NVidia G210M Graphics with 512MB DDR3 + Intel GMA 4500MHD (Switchable VGA)
13.3-Inch Widescreen HD LED LCD Display
Wi-Fi 802.11 bgn; Bluetooth; 0.3M Webcam
Windows 7 Home Premium 64bit
Advertised 12 hours battery life with 5600mah battery
I would write a full review a month later, but as an overview, these are my thoughts after several days of usage:
Pros:
Thin and lightweight
Aluminum lid
Long battery life, around 7 to 8 hours at low settings with wireless broadband plugged and quite a number of tabs on Firefox
Chicklet keyboard
Able to overclock via the Turbo33 by ASUS when more processing power is required.
Switchable video card
Able to play 1080p HD videos on YouTube without a glitch when on high performance settings
Doesn't generate much heat
It's pretty snappy despite having a low processing power
Plug and play wireless broadband. You are connected once the laptop is started, no need of using your ISP's dashboard or any other software of that sort.
Cons:
Lid and chassis are fingerprint and smudge magnet. Looks pretty clumsy
Small viewing angle, colors look washed out when view at a an angle
I strongly recommend that you take a closer look at this if you are considering to get a netbook. The UL30VT is just as portable in my opinion, but is definitely way more powerful than a netbook.