January 23, 2009 by Vincent
Bypass "This video is not available in your country"

You might not notice this if you are staying in US, but some YouTube videos, especially official music videos, are restricted to viewers from the United States only. Whenever a viewer from outside US wants to view those videos, YouTube says "This video is not available in your country".

The trick of replacing the YouTube video URL from www.youtube.com/watch?v=[video-ID] to www.youtube.com/v/[video-ID] will no longer work.
Using translators such as Google Translate and Babel Fish as proxy server will not work either, since they do not support flash. Proxy websites will probably not work as well, YouTube will show "We're sorry, this video is no longer available" instead—but with one exception.
Workaround #1 – Using Hide My Ass!
Hide My Ass! works flawlessly in bypassing the YouTube region filter. As Hide My Ass! streams YouTube video using its own player, it will prevent the YouTube player from displaying the "We're sorry, this video is no longer available" message. The server is located in US, therefore videos restricted to US viewers will play without a problem.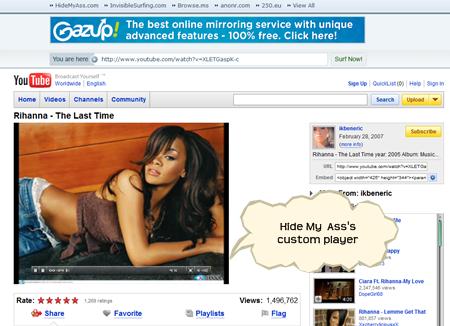 This is by far the only proxy website that will play country-restricted YouTube videos nicely and without any problem.
Update: More proxy websites that works..
Workaround #2 – Convert & Download Using Zamzar
Alternatively, you can use Zamzar to convert the YouTube video into any video format, then download and watch it locally. You might want to try other YouTube video downloaders too, but I have no luck so far.

Censorship? Discrimination? Muting? To hell with all that.
P.S. The workarounds works well at the time of writing.
P.P.S. They might not work for videos intended for audience in a specific non-US country.
P.P.P.S. Now I can watch Crank Dat Obama already 😀