December 5, 2010 by Vincent
Christmas Freebies: Gameloft Mobile Games & FontDeck Fonts
It's end of the year again! It will take a while till Christmas, but you can have your Christmas gifts right from today, for every single every day until 25th of December.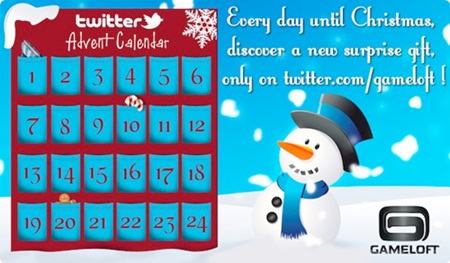 The first early Santa will be Gameloft, the popular mobile games maker. Starting from 1st of December, Gameloft will surprise you with a gift every day until Christmas.
The gifts can be anything like free mobile games for iPhone and Android, game discounts and game related contents like wallpapers.
To make sure you don't miss any freebies or deals from them during this period, follow @gameloft on Twitter, the only place the gifts will be announced.

The second early Santa is FontDeck. Just like Gameloft, FontDeck will be offering premium fonts for free everyday until Christmas.
Simply go to Adfont Calender every day to check out the free font of the day. Perfect for web designers.