September 21, 2010 by Vincent
CleanHaven: Manipulate & Format Texts The Way You Want
We all know how frustrating it is to work with forwarded emails, unprofessionally written articles, incompatible text document format and the likes. Such articles are a pain in the ass to clean, with weird symbols, random spaces, random uppercase lowercase etc throughout.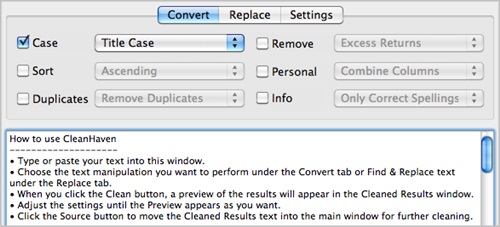 If you can relate to such scenario, CleanHaven is your savior. It is an all-in-one text cleaning tool with abilities ranging from case formatting to removal of excess spacings—from replacing word "A" with word "B" to removing duplicates.
It's not possible to list out everything it can do, so it's best if you hop over to CleanHaven's homepage and watch the screencasts (bottom of the page). I've embedded part 1 of the video below, there are 7 parts in total all demo-ing different features.
Works on Windows, Mac and Linux. Now it would be nice if there's a web app version of this.