January 26, 2011 by Vincent
Disk Drill: Free Mac Data Recovery Software
This post brought to you by CleverFiles. All opinions are 100% mine.
(Mac only) One of the pitch Google used to get more users to use its range of services is "everything is in the cloud". Your data will be stored online safe and secure despite having your computer harmed in some of the most common workplace disaster (or not so common, as shown in this video).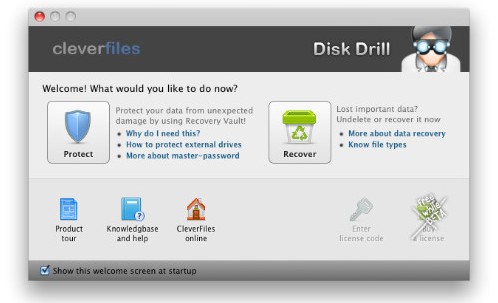 There is one problem though. Once you have permanently deleted a file from the cloud, it's gone for good. There is nothing you can do about it. No software can bring back the file. On the other hand, it's very possible to recover deleted files on your local hard drive.
Disk Drill Mac Data Recovery does exactly that. It is a new software for data recovery and protection on Mac OS X 10.5+ (older versions are not supported). Currently still in beta, Disk Drill has the ability to recover files on any mountable drive, in any file system they are formatted in (HFS/HFS+, FAT, NTFS, etc).
In another words, Disk Drill will not only work on your Mac's hard drive, but also other portable memories like USB drives, memory cards and even gadgets with internal storage like the iPhone and MP3 players.
When not used for data recovery, Disk Drill will run in the background to protect disks and partitions against data losses with Recovery Vault. Whenever you delete a file, Recovery Vault will remember its properties like file name and location.
If you later decide that you want that particular file back, you can recover it with all its properties intact.
Without Recovery Vault, your files can still be recovered, but there's a risk of losing essential information like file names.
Since I don't have a Mac, I couldn't review this piece of software personally, but according to this forum post, someone succeeded in recovering all the files (he thinks) in his 6 months dead hard drive with a 15 hours deep scan.
Contribute in Beta Program, Free Lifetime License
Quoted from the forum:
Hey guys!
As you know Disk Drill is free while it is beta. Once it goes stable we'll gladly supply free lifetime licenses to everyone who contributed with bugs, ideas, comments, pingbacks, blog posts and any sort of feedback.
Sounds like a deal to me.