January 19, 2011 by Vincent
F!acedeck: Sleeker Way to Use Facebook

Every time any major changes is made on Facebook, there will be users that dislike it. Ever since Facebook rolled out the new profile layout to everyone, there are quite a number of people complaining, expressing how much they hate it.
Whether you hate the new profile layout or just grew bored with the overall Facebook interface, F!acedeck might just be the refresher you need.
The dark and blue themed Silverlight Facebook client features an interface similar to that of Windows Phone 7's UI, which spells sleekness and awesomeness.

News Feed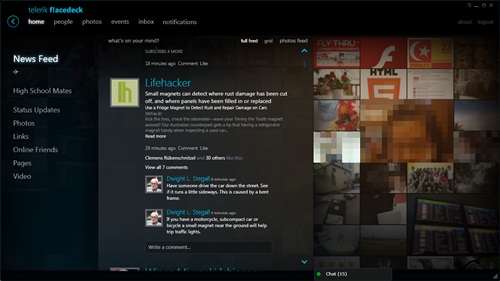 Full feed
You can choose to view your news feed in full feed, grid, or photo feed (obviously, photos only).
In the full feed view (screenshot above), your news feed will be displayed alongside with some recently uploaded photos by your friends. You can comment and like statuses as usual, but not like comments.
In grid view, the news feed is displayed side by side horizontally. Clicking on the arrow on any item will give you the option to comment or like. The number of comments and likes of an item won't be readily available in this view, unlike in the full feed view.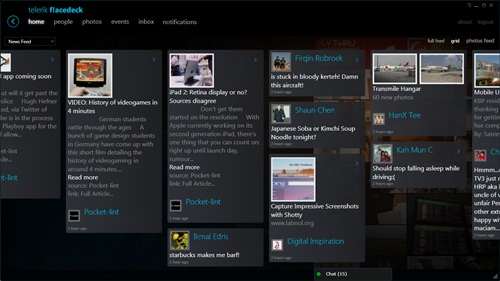 Grid
Photo Viewing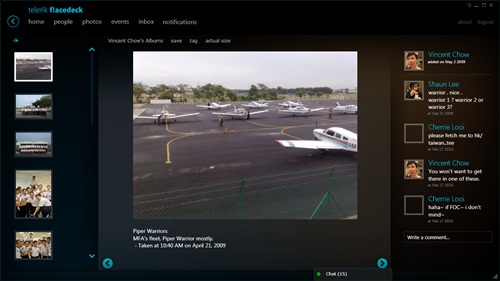 Photo viewing experience in F!acedeck is enjoyable. Photos look more beautiful with a dark background, and you can browse photos in an album easily with the thumbnails on the left. On the right, you can read comments left by others, or add one yourself.
Instead of showing a stupid square when you hover over someone's name tagged in the photo, F!acedeck will highlight the person in a spotlight style while dimming the remaining. You can also tag your friends on a photo the same way you do it on Facebook.
The only downside is that you cannot like the photos.
Other features
Facebook Chat
Events
Inbox (messages)
Notifications
Demo
F!acedeck is supported on both Windows and Mac, as long as Silverlight is installed.