January 5, 2011 by Vincent
Facto: Share Your Little-Known Facts
Have you ever been arrested? Do you have any secret nicknames? What are the things that other people don't know about you? Facto wants to know it.
Facto is a platform for you to share little known facts about yourself. Why would you need a separate service to share your facts when you can do the same on Facebook and Twitter?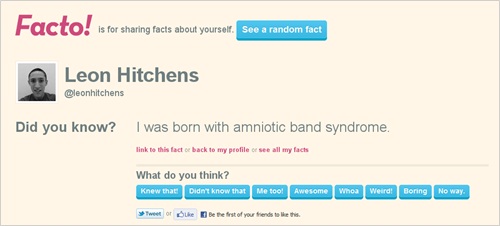 That's because amazing things happen when everyone come together and tell little things about themselves, be it achievements, pet peeves or experience. It's cool reading random facts about random strangers living half a globe away.
You can reply to a fact using some of the preset responses; including Knew that!, Didn't know that, Me too!, Awesome, Whoa, Weird, Boring and No way. It's not possible to post any comments other than the preset ones, so spam is not an issue here.
You don't need an account to just browse random facts, so go ahead and see what people are sharing there.