March 14, 2011 by Vincent
First 20 Minutes Impression on Nokia E7 #maxis10
This is a guest post by Sf Mah. This is what she thinks about the Nokia E7 after fiddling it around for 20 minutes: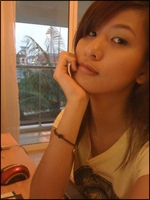 When I first held the Nokia E7 in my hands, it's pretty slim and sleek but it doesn't weigh the same. The heavy weight makes it feels bulky.
The large, long display screen makes it easy for browsing.
I like how the homescreen is practically made into multiple use. The 3 different homescreens put a lot of my daily use elements together and they are easily accessible.
The multiple homescreens and multiple submenus makes it confusing to navigate around the phone. Without deep familiarity with the phone, it is very difficult to navigate and browse around the menu.

Sliding the phone for the keyboard is a little tricky because the main screen of the phone seems bulky. Sliding it will reveal a sleek and complete QWERTY keyboard. The keys feels very solid and it does take some time to type in a lengthy SMS. I would prefer using the on-screen keyboard so my fingers wont hurt.
8MP camera for a phone seems quite promising, but the quality of photo taken by the camera is rather disappointing compared to taking a video.
The camera captures decent videos. The phone captures sounds very well too. Photos and videos in the phone can be edited right in the phone itself which makes editing easier as I can do editing on-the-go.
The flashlight can be made in use as a torchlight is a plus for a gadget where I bring it everywhere I go.