May 20, 2011 by Vincent
First Impression on VIPRE Antivirus
This post brought to you by Sunbelt Software. All opinions are 100% mine.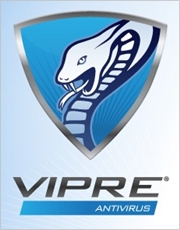 One of the main criteria I look for when choosing an antivirus is speed (if you have no concern about speed and lightness, you haven't try McAfee yet. It's.. nasty) . Protection comes second. The way I see it, no point having a top notch antivirus in detecting the bad guys, but have the antivirus itself bogs your machine down.
VIPRE Antivirus software prides itself for being a "high-performance antivirus software that doesn't slow down your PC like older, traditional security products." The antivirus maker also claims that protection will not be compromised, with the software offering world-class protection.
While I cannot verify the protection effectiveness (I don't even know where to get an infected file for testing purpose to begin with), I will comment on the performance — speed and usability wise.

Installation
The usual software installation routine. Click "Next" several times, read the user agreement, and lastly, reboot. VIPRE setup wizard will start by its own after rebooting, in which you can optionally setup the email protection if you're using a desktop email client.
When that is done, VIPRE will start downloading its virus definition for the first time. It will take a couple of minutes here.
Quick Scan
Two risk was detected in the 8 minutes quick scan — tracking cookies and HotSpot Shield. The former labeled as cookie with low risk, while the latter as adware with moderate risk. VIPRE offers to remove the cookies and quarantine HotSpot Shield, which I won't be doing obviously.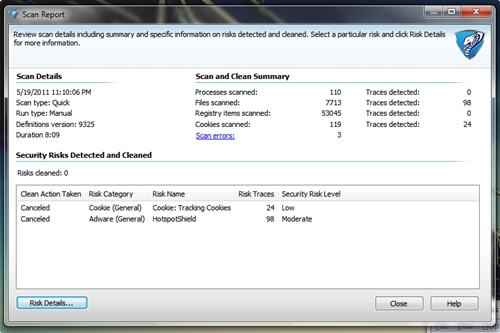 A glance on Windows Task Manager shows that the antivirus is using zero to 4%of CPU and 6MB of memory. Very, very decent.
Deep Scan
CPU and memory usage is relatively unchanged here. I'm drafting this post as VIPRE is deep scanning in the background, with 18 tabs opened on Chrome and iTunes playing. The PC is just as responsive as ever.
Total scan time is slightly over 4 hours, with archives scanning on (off by default). Pausing and resuming will only work in the same session. Once you turn your computer off, it won't pick up where it left and you'll need to start all over again.
There is also no option to stop the scan and clean whatever risks that are being detected. Either you cancel the scan completely or allow the scan to finish.
Tools
VIPRE antivirus comes with three additional tools on top of, well, being an antivirus — namely Secure File Eraser, History Cleaner and PC Explorer. The first tool is used to securely delete files, leaving no trace behind. Think of it like a shredding machine.
The History Cleaner on the other hand, list and remove histories on all possible applications, not only on browsers. It even suggested that I delete "my" ICQ chat history. I don't even remember installing ICQ. Who still uses that anyway?
The last tool is used to access hidden computer settings, like Startup Applications and Running Processes. You can't do much here other than selecting trusted applications and  "Add to Always Allow". You won't be able to customize your Startup Applications here.
Conclusion
I have spent barely two hours poking around VIPRE, there is only so much I can comment about. I have not noticed any PC slow down yet, so I guess it's not just a marketing pitch when they say "Finally Antivirus Software That Won't Slow Down Your PC!" tagline.
I've ditched Avira for VIPRE for further testing, now that I'm offered a 1-year free subscription for reviewing.
VIPRE antivirus is selling at $29.95 for one PC, $39.95 for two and $49.95 for three or more PCs. There's a 30-days free trial if you'd like to take it for a spin.