December 26, 2008 by Vincent
Fixmymovie: Enhance Your Crappy Video

Handphone cameras, though produces low quality videos most of the time, is one of the most frequently used device to record an unexpected event. Almost everyone carries their phone around, but not an expensive camcorder that will capture DVD quality videos.

With Fixmymovie, there is no need to settle with those handphone-camera-quality anymore. It will not turn your crappy video into DVD quality, but it will make your unwatchable video to a more watchable one—by brightening your dark video, sharpen your blurry video and make your video less jerky.
Example
The video on the left below is the original video uploaded on YouTube, while the video on the right is after the fix. The original is too dark to see a single thing, but after the fix, you would be able to see someone playing a guitar.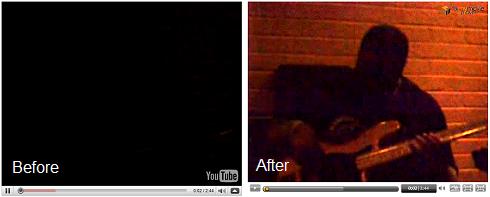 Click on image to watch and compare
After fixing the video, you can either push it to YouTube or download it. For a fee of $2, you can download the fixed video in four formats, which are Windows media, iPod video, flash video and original movie with the "fixmymovie" logo watermark removed.
Not all videos will look better after being fixed though, some would even look unnatural instead.