April 9, 2010 by Vincent
Gmail Sneak Peak: Preview Mail Content Without Opening It
Gmail Sneak Peak is a newcomer to Gmail Labs. When it is enabled, you can view any mail's content in your inbox by right-clicking, without actually opening the mail itself.
A window overlay sort of a thing will appear, and an excerpt of your mail content will be displayed, like this: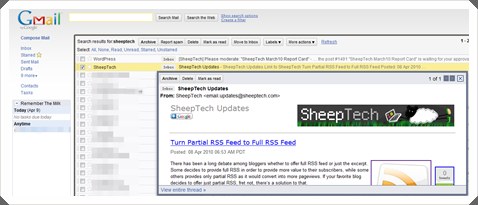 The window is not scrollable. If the full mail content is too long to be fitted, you will have to open the mail to read it in full. That's the reason they call it sneak peak after all.
On the top left corner of the window, there are 3 buttons—Archive, Delete & Mark as read, for convenience's sake.
It's useful to preview recurring emails, say, notifications email when you got a new follower on Twitter, or a blog comment moderation email. You basically know what's the content by reading the subject alone, previewing it makes it convenient to click a link in the email without opening it.