December 6, 2008 by Vincent
Google Friend Connect Launched
Who visited your website? Who is your blog's loyal reader? With questions like these in mind, MyBlogLog and other variations services had launched, hoping to bring blog readers together, connect and social with each other. MyBlogLog had achieve this, especially with their ability to automatic add reader to a blog community which he frequent.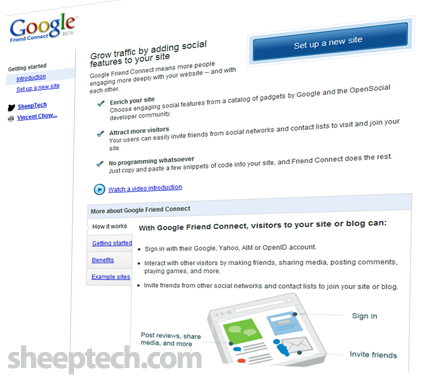 Google had been experimenting with this "bringing readers/visitors together" sort of service, and had finally launched what they call Google Friend Connect 2 days ago. Unlike MyBlogLog, most activities are done using the gadget embedded on blogs or websites instead of having a functional website.
A webmaster or blogger can add their website to Google Friend Connect and setup a members gadget. What do the gadget do? A visitor can join your website community via the gadget, using existing Google account, Yahoo! account, AIM account or OpenID account.
Next? They can add each other as friends, view profiles of other members—which consist of their avatar, link and small about me snippet.As far as I'm concerned, there is no way to send message to other members or any other form of interaction.
You can also add other gadgets, such as the wall gadget, which allows viewers to post comments, or links to videos on your site. Works like a chat box in my opinion.
At the time being, there is really nothing much to do with Google Friend Connect. MyBlogLog has whatever Google Friend Connect has, but Google Friend Connect has just part of what MyBlogLog is having—except for other gadgets that serve little to no purpose.
Google can do so much more to make it more convincing for webmasters to consider using Google Friend Connect. What is the point letting members to join the community, and you know who are the members, add them as friends if you wish, and do nothing else? Not even sending them messages? That doesn't make sense.
Might as well change the product name to "Google Know Your Community Members" instead. Well, it's still in beta so it might be too early to judge.
I have setup a Google Friend Connect gadget for SheepTech, which can be found at the sidebar. Play around with it and let me know what you think.