February 12, 2009 by Vincent
Google Japan's PageRank Drop from ~9 to ~5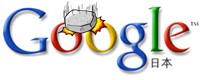 The PageRank of Google Japan has dropped from 9/10 to 5/10, serving as a penalty for Google Japan's involvement in purchasing paid links. In another words, Google is slapping itself for breaking a rule it sets itself. Irony.
Several days back, TechCrunch reported that Google Japan hired a local marketing firm to promote its newly launched "Hot Keywords widget" (to display the top 5 search terms on Google Japan), via a pay-per-post campaign. However, unlike what's suggested by Google itself on paid links, the links in the sponsored posts bought are not nofollow links.

That is what prompted Google to penalize Google Japan, for purchasing paid links. Matt Cutts who works for the Search Quality group in Google confirmed it on Twitter.
The Apology
Posted on Google Japan's blog under the name of Senior Marketing Manager Koji Baba. (via)
"Google Japan is running several promotional activities to let people know more about our products.

It turns out that using blogs on the part of the promotional activities violates Google's search guidelines, so we have ended the promotion. We would like to apologize to the people concerned and to our users, and are making an effort to make our communications more transparent in order to prevent the recurrence of such an incident."
The Impact
It's shameful for Google to set a guideline, breaks it, and then penalize itself.. making itself a laughing stock. A PageRank drop however should not affect anything else, for it will still rank #1 for the term "Google Japan", and that is the only term it should rank well for. Who would search for a search engine online anyways, especially for Google?
I see more good than bad for this PageRank drop:
Google Japan will be getting lots of buzz from this issue, for free.
Serves as a warning to other link buyers, implying that Google will even penalize itself for buying links, who are you Google should have mercy on?
What say you?