January 9, 2009 by Vincent
How To Download Image on Right-click Disabled Website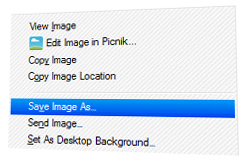 Disabling right-click on websites is stupid. It's so old school and is no longer relevant these days. But yet, some webmasters or bloggers are still doing it, not realizing it will do more harm than good. If you are one of them, read this.
One of the most popular reason to disable right-click on a website is to prevent visitors from downloading or stealing their images. But it will no longer work as there are so many other ways to download an image from a website without using the right-click.

These are the 3 methods that would enable you to download any images from a right-click disabled website easily:
Drag & drop image to desktop or browser's address bar
This is the easiest method of all. Just drag the image you wanted to download to your desktop (or just anywhere else in your local disk) and it will be downloaded automatically. This will work in both Firefox and Internet Explorer.
Alternatively, you can drag the image to the Firefox's address bar. Doing this will load the image in the browser and you are now free to right-click on the image and save it.
The drawback is it will not work on linked images and non-draggable images—a website background for example.
Open Page Info in Firefox, download from there
By any chance the drag method do not work, try this one.
In Firefox, go to Tools → Page Info.
Click on the Media tab.
Look for the image you wanted to download in the list.
Click the "Save As…" button.
This method eliminates the need of looking into the page's source code manually, as all images on the webpage will be listed in the "Page Info", making life easier.
Print screen, crop, save
This would be the last resort. It is not the best way, for you would need to crop the image after capturing the screenshot, and most probably the outcome wouldn't be perfect. But then the thing is, it would work, definitely.
Go to the website where the image you wanted to download is located.
Scroll to the location of the image, make sure the screen is showing the image
Press on the "Print Screen" button (somewhere above the "Backspace" button). The button label may vary, but it would look something like "Prnt Scrn"
Open MS Paint or any image editor
Press "Ctrl+V"
You will now see the screenshot you have captured a while ago. Crop the image you wanted to download and save it.
While it is easy to get around the right-click trick, note must be taken as it is still illegal to use a copyrighted image without permission.