July 27, 2008 by Vincent
How To Remove MobileMe from Windows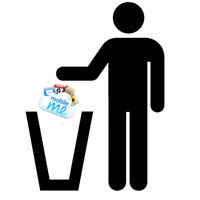 So you got your iTunes updated to the latest 7.7, happy with it and one day, you found something new in your control panel. Google it and you notice that it's a commercial software called MobileMe installed by Apple secretly when you are updating your iTunes.
If you do not have an iPhone or an iPod Touch, you definitely will not need MobileMe. Not to mention that even if you own an iPhone or an iPod Touch, but is not willing to fork out your hard earned money for features you do not need, you might as well as dump MobileMe too.
To remove MobileMe from your Windows, just simply navigate to your control panel, Add/Remove Programs, and uninstall Apple Mobile Device Support. MobileMe should not be in sight anymore after you have do so. I don't know why Apple would assume all iTune users are iPod or iPhone owners. Will it be people at Apple thinks that no one will ever use iTunes unless he's an iPod or iPhone owner because he have no choice? They should have boost their confidence a little then.
Note: Only uninstall Apple Mobile Device Support if you are not using iTunes for your iPod. iTunes will not be able to detect your iPod after you uninstall the mentioned.