November 29, 2010 by Vincent
ImageShack & imgur Right-Click Upload Firefox Add-on
ImageShack has officially stopped updating its right-click upload Firefox add-on since Firefox 3.0, to push more downloads for its toolbar presumably (only my grandmother install toolbars these days). However, with the amount of savvy developer out there, there are still Firefox add-ons with similar functionality that works well up to Firefox 3.6 & 4.0b7.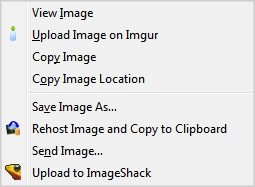 Rehost Image
The best part of this add-on is its ability to upload silently. Right-click on an image, select "Rehost Image and Copy to Clipboard", and nothing happens. A moment later, you will be notified on the status bar that your image has successfully uploaded. The image URL is automatically copied to your clipboard, just paste it wherever you want and you're done. Totally zero interruption to whatever you are doing.
Other than Imageshack, Rehost Image also supports ftp uploading. With it, you can upload any image to your server without first downloading it to your computer.
You can also opt to keep a history log of the image URLs.
ImageShack right-click
This one is a tad simpler. After installing, an extra option will be available in your context menu. Right-click on an image, click "Upload to ImageShack", and the current page you are on will be redirected to ImageShack. You can then copy the image URL.
Not very convenient, especially when you have to upload multiple images from the same page. It's slightly buggy too when I tested it.
imgur uploader
Works almost the same as Imageshack right-click, except it opens a new tab to upload, and imgur is much cooler than ImageShack. It's the primary image host on Reddit after all, so you can have the least worry on whether Imgur can handle the load your image generates.
Image URLs are short, so it's Twitter-ready (don't even mention Yfrog, the blinking ads, ugh).