December 27, 2010 by Vincent
Infolinks Still Appearing In Areas With Off Tag
Wanted to stop Infolinks from displaying on a specific section on your blog?
The <!--INFOLINKS_OFF-->Â tag is supposed to get the job done easily, but it doesn't on my blog, no matter where I insert the tag. The in-text ad is still appearing at inappropriate section, such as the sidebar and comment section.
The culprit? W3 Total Cache.
With the HTML minifying feature enabled, all html comment tags is being removed, including the <!--INFOLINKS_OFF--> tag.

The good news is you don't have to sacrifice the minifying feature just for the Infolinks off tag to work. Just simply include the tag in W3 Total Cache's ignore list and W3TC will leave it alone.
You can do that via Performance > Minify > HTML > Ignored comment stems. Enter "INFOLINKS_OFF" in the list.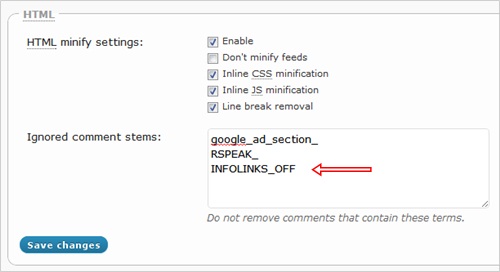 The off tag will now work as intended. Insert it in sections you want to keep clean and Infolinks will no longer show up. If you are not using W3 Total Cache, you might want to check if you have other plugin with similar HTML minifying feature.