March 22, 2010 by Vincent
Get to Know Strangers Who Email You
(Gmail+Firefox/Chrome) Do you receive emails from strangers very often? If yes, it would probably be a lovely to have this Firefox add-on/Chrome extension installed— Rapportive.
This is what Rapportive do — kick out the sidebar advertisement from Gmail and replace it with information about the sender of the email you are reading. Here's what it will display:
Photo pulled from Gravatar
Job, position or employment information pulled from LinkedIn
Social media accounts that match the email address, courtesy of Rapleaf
If a Twitter account is present, it will display the 3 latest tweets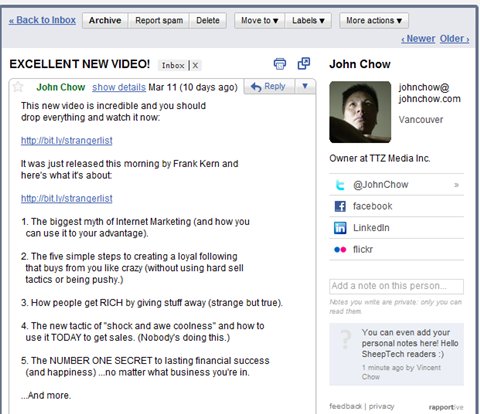 It's even possible to add personal notes under the contact profile.
If you are curious on how your profile is displayed to other Rapportive users, you can view it by going to "Sent Mail", click on any of your sent mail, and lastly, simply hover on your name:

The Dark Side
Remember that embarrassing MySpace profile you created years ago? Or that Bebo and Friendster profile? No? They don't belong to you?
Problem 1: You have created several accounts on different social networking sites in the pass, with all the embarrassing photos, information about you written years ago that no longer hold any truth today, and those bling blings you have pasted all over your profile.
And you have totally forgot about it! Guess what? If your email recipient have Rapportive installed, he will be able to discover all these history of yours!
Not cool, definitely not.
Problem 2: Inaccurate information. In my case, Rapportive is grabbing my outdated LinkedIn employment information. It is not reflecting the modification I have made some time back. Besides, it's also linking to my very old Flickr account that I no longer use.
Heck, my email address is not even linked to that old account anymore. But somehow they are still able to dig it out and completely ignore my new account (which is linked to my email address).
Rapportive is well aware of this problem:
If you see data which is inaccurate, abusive or otherwise objectionable, we want you to be able to correct it. Soon you will be able to edit information directly from within Rapportive, but while we are working on this, please send us corrections by email and we will deal with them promptly.
I have sent them an email, and Martin (co-founder) rectified my information on a Sunday!
Problem 3: Google is not gonna like this. They invested so much time perfecting Gmail, giving out so much space, and you are removing their only source of income to over all these cost?
But this is more of a Google problem than ours. They are not any less evil after all 👿