December 2, 2010 by Vincent
LG Optimus 7: LG's First Windows Phone 7
This post brought to you by LG. All opinions are 100% mine.
LG Optimus 7 is part of the first generation Windows Phone 7 lineup, along with its counterparts at HTC, Samsung and Dell. Microsoft had impose a strict hardware guidelines to ensure manufacturers provides a consistent and great user experience. It's therefore safe to say that all WP7 are high-end phones, by today's standards at least.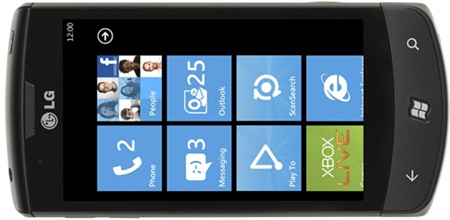 Display
The LG Optimus 7 is powered by a 3.8″ capacitive TFT LCD screen. Though not as fancy as other mobiles powered by Super AMOLED, Super LCD or Apple's Retina display, Engadget says the 480×800 screen has better contrast and is more vibrant than HTC's HD7.
Multimedia
With Play To (DLNA), you can easily send pictures, musics or videos to a DLNA-capable device. Meaning you can see pictures captured on your phone on TV effortlessly, without any wires or cables. The same goes to HD video playback.
Instead of making product manager describe how amazed they are (or not) in promotional videos like Apple did, LG made an animation on LG Optimus 7′s DLNA feature, just like what they did to Optimus One's promotional videos.
Pre-installed Apps & LG Unique Features
Besides Play To, these apps and features are included in the phone on top of the stock Windows Phone 7.
ScanSearch augmented reality app
Intelligent Shot and Panorama Shot for its camera
Voice-to-Text, self-explanatory
Other Specs
1 GHz Qualcomm Snapdragon processor
5 megapixel camera capable of capturing 720p HD videos, LED flash
16 GB internal memory
Wi-Fi 802.11 b/g/n
GPS and aGPS
Bluetooth 2.1 + EDR + A2DP stereo
1500mAh removable battery
Other specifications are pretty standard. The 16GB storage is however not expandable, which is rather disappointing considering the phone is capable of capturing storage-hungry 720p HD video.
How to choose a Windows Phone 7?
Unlike Android, there isn't much room for manufacturers to customize their Windows Phone 7 devices. Most WP7 sports the same interface, leaving users undecided which device to get.
What's left differentiating these device are the phone's design, hardware specifications, build quality, brand name, resale value and in some countries, carriers.
Reviews play major role when I'm deciding on a new phone, video reviews especially. The reviewers will usually spend a period of time using the device, therefore their reviews are usually real user experience. I will then match these feedback with my personal requirements and expectations and make my decision from that point.
If you are considering picking up LG Optimus 7, you might want to read a review or two to know what to expect. There are also some HD video recording samples on YouTube.
Go get a hands-on experience at the store if it's convenient for you.