December 25, 2010 by Vincent
Merry Christmas! And The Winner Is…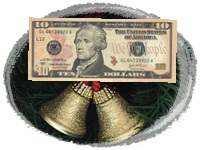 Ho ho ho.. the day has arrived. 18 days after the contest was launched, there are 120 fans on SheepTech's Facebook page, myself included.
To pick the winner, I have used Random.org's list randomizer. The list of people who liked SheepTech's Facebook page is copied to Random.org, in the same order as shown on Facebook.
Upon clicking the "Randomize" button, the list will be shuffled, and the person who came on top of the new list will be the winner. I have made a video showing the drawing process:
Congratulations Affan Ruslan! Please check your Facebook message to redeem the prize.
Merry Christmas and happy holidays to everyone else. Thank you for participating.