January 25, 2011 by Vincent
Minimalist Gmail: Fully Customize Gmail & Remove Clutter in Chrome
(Chrome extension) Comparing to other major webmail, Gmail definitely has the cleanest interface, spotting only text advertisements, without any flashy banners. For some minimalist freaks however, that is not enough. Want to remove more clutters? Want more customizing power?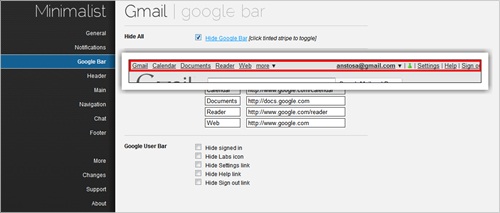 Can be done. Minimalist Gmail is a Chrome extension that provides option to hide almost all possible elements in Gmail, as well as other extensive customization option.
What can you hide? The top link bar, the Gmail logo, the search box, buttons, sidebar items, advertisements, navigation and just everything else (except for the inbox itself).
For customization, you can change the Gmail logo, highlight starred items with a color of your choice, replace the top links with your own links, use custom attachment icons etc.
If you have a Gmail checker extension installed to monitor new emails, you can uninstall that already. Minimalist Gmail doubles up as a Gmail notifier by indicating the number of unread mails on the favicon. You can also opt for a toast notification whenever a new mail arrives.
A must have for avid Gmail user.