December 3, 2008 by Vincent
Nokia N97 – High End Touchscreen Smart Phone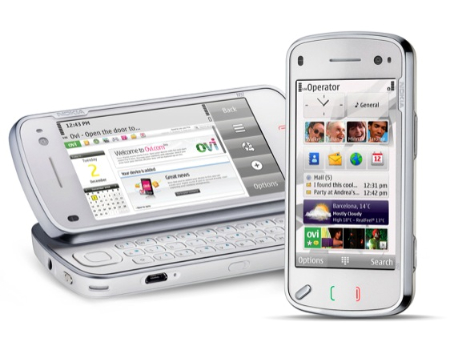 3.5″ touchscreen, QWERTY keyboard, 32GB internal memory which can go up to 48GB with a 16GB microSD, 5 megapixels camera with Carl Zeiss lens, Wi-Fi, built-in GPS receiver with A-GPS support, Symbian OS v9.4 — all powered by a Li-Ion 1500 mAh battery that will last up to 430 hours of standby, or 6 hours 40 minutes of talk time, or 1.5 days of audio playback.
Basically everything that a smart phone should have is included in the N97. Except for the design, which is not too bad in fact, the N97 seems to be winning in almost every aspect comparing to the iPhone, therefore being dubbed as the iPhone killer.
A review comparing the Nokia N97 and Sony Ericsson's Xperia X1 would be interesting, as both are very appealing (I personally like the N97, monster specs!) and appears to be in the same category. The N97 would be retailing at €550—not cheap, but definitely worth it.
Gizmodo has a set of hands-on photos that you might be interested. GSMArena had put on the specs for N97 too.