August 24, 2010 by Vincent
OhLife: Diary That Comes to You

Wants to keep a diary but finds it difficult to write consistently? What about a diary that comes to you to be written on, every night, so that you won't miss a single day?
OhLife does exactly this. After signing up, OhLife will send you an email every night at 8PM asking "How did your day go?". Your reply to that email will be your diary entry of the day, automatically stored on OhLife's website for your reading pleasure in future.

Too busy or just didn't bother to login to read your entries? Fine. Your diary entry will come and look for you instead. In the same nightly email itself, OhLife will show a random diary entry you wrote in the past.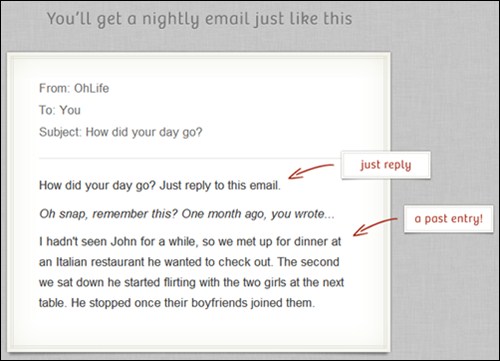 If for any reason you wanted to stop OhLife from sending you the nightly emails, you can do so from the settings panel. The email delivery time will be fixed at 8PM every night, but you can manipulate this by changing your time zone setting.
You are free to delete or edit any entry you rather not keep. Export is available in .txt format.