February 8, 2009 by Vincent
Video: How to prevent earphone wires from getting tangled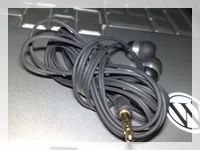 After getting rid of 2 big bags worth of old unwanted items from my drawers and shelf (some items date back to 8 years), I sit back and see what else I could do to unclutter my workstation. Two tangled earphones on my desk came to my attention, and naturally I Google for a way to handle them.
I was pointed to a tutorial on lifehacker, which was a very practical way to keep earphones, and more importantly making sure they will not be tangled when I wanted to use them later.
Since lifehacker is just providing the tutorial in words, I filmed a video tutorial to better demonstrate the steps, and to proof that the cables will really not be tangled when you unwrap them later.


On your right hand, tuck your 3rd and 4th finger and extend your 2nd and 5th finger
Hold the earbuds with your 3rd and 4th finger against your palm
Wrap the cable around your 2nd and 5th finger in the shape of "8"
When you have 6 to 8 inches of cable left, wrap the remaining cable around the center of the "8" shape
Tuck the earphone jack through one of the two loops in the "8" shape, or through the center wrapping.
The video was captured using only a Nokia N82 under low light condition, so bear with the poor video quality.