December 4, 2010 by Vincent
Raise the Village: iPhone Game that Makes the World Better
Many people are willing to spend their hard earned money on virtual items in games they are obsessed with, such as Farmville. What they are doing is essentially fattening the wallets of the game company investors, while receiving something that doesn't exist, in a world that doesn't exist. That is why they call it virtual world.
What about this: spend money on virtual items in a village building game, which correspond to a real village in Uganda. You buy a virtual blanket in the game, a villager in Uganda receives a real blanket.
New Era Charity makes it possible with its iPhone game, Raise the Village.


In this game, you becomes the chief of a village in Uganda, or so to speak, right from the comfort of your couch with your iPhone. You help improve your villager's life, sending aids to them, building farms etc.
Your villagers will report to you when they have received your item, with a photo of them and your purchased item.
And when someone ask you what have you done to make the world a better place, just whip out your iPhone and show them your village.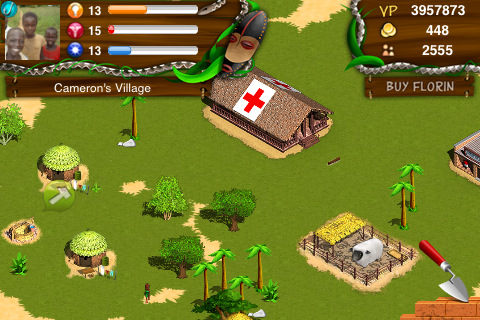 I personally think it would be a good idea if it is possible to earn virtual in-game currency by viewing ads. This way, even the stingiest iPhone user can help improve the village.
For the time being, it seems that the app is only available in the U.S. App Store.