November 16, 2010 by Vincent
Request for the New Facebook Messages Invite

Facebook has announced its new revamped messaging system, called the Modern Messaging System. Messaging a person, whether in or outside Facebook, is more difficult than it should be, according to Facebook, with you having to first determine to mode of messaging (email, IM, text, FB etc). The new Facebook messaging is attempting to change this all.
One social inbox, where you will only receive messages from real humans. One Other Messaging inbox, for messages from Events and Facebook Pages. You can blacklist any of your Facebook friends from your social inbox, as well as promote any senders from the Other Messaging inbox to your social inbox.

Messages are sent as conversations, unlike email. No subject line, no BCC, no CC, just your message and the person's name. Facebook is also offering free @facebook.com email addresses, so that you can receive emails from friends who doesn't use Facebook in your Facebook inbox. The address would be based on your Facebook vanity URL though, you are not allowed to customize it.
At this point, I have no idea how texting works in the new Facebook messaging, whether it's a U.S. only feature or it's free for international numbers.
All conversation history whether they are communicated via email, chats or texts will be recorded in the new messaging system, acting as a central place to control all of your private communication, both on and off Facebook.
The new Facebook Messaging will be rolled out to all users in the next few months. For now, it'll be rolled out on "invite only" basis. If you're an early adopter or a curious cat, you can gain early access to the new Facebook Messaging by requesting an invitation.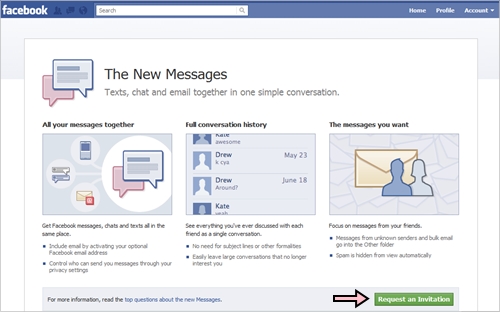 I'm unsure how long it will take before Facebook actually sends out the invitation. I'll update this article once I have received it.
Update January 14th, 2011: I'm now using the new Facebook Messages.