January 29, 2009 by Vincent
Revo Uninstaller: Better than your average uninstaller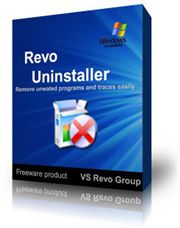 Using "Windows Add or Remove Programs" might be sufficient if you hardly install any softwares on your computer. But if you are adventurous in testing new softwares on your computer every now and then, you will need a more complete uninstaller so that it wouldn't be a pain to to dump unwanted softwares, and more importantly to make sure nothing is leftover after uninstalling.
You should really consider checking Revo Uninstaller out if you are in the latter situation. It is one of the most popular freeware uninstaller, for its ability to provide a more comprehensive software removal solution and its ease of use.

Some of its features:
4 Modes of Uninstalling
There are four mode of uninstalling, namely:
Built-in – run only the application's uninstaller without any additional scanning. (just like Windows Add or Remove Programs).
Safe – includes the Built-in mode and performs additional scans in the Registry and on the hard drive to find leftover items that are safe to delete.
Moderate – includes the Safe mode and performs an extended scan to find all of the application's leftover information in the most common places of the Registry and on the hard drive.
Advanced – includes the Moderate mode and performs a deep and thorough scan to find all of the application's leftover information in the Registry and on the hard drive.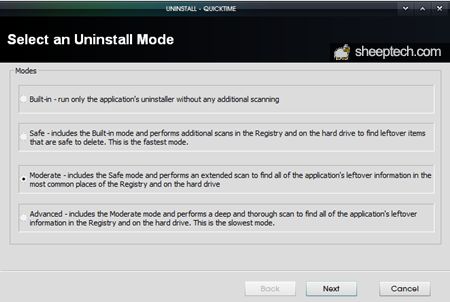 As you can see, Revo Uninstaller is able to offer a cleaner uninstall than just running the application's default uninstaller. After uninstalling, it will scan for items that were created by the uninstalled application before this but is not removed during the uninstallation.
This will ensure that there is no unnecessary items wasting your diskspace and minimize registry errors, which will eventually slow down your computer after they build up.
Search application to uninstall
Going through a list of installed applications to look for the specific software you wanted to get rid of is not the best option. In Revo Uninstaller, you can simply search for the application you wanted to remove by entering the keyword or part of the software's name.
For example, I wanted to remove Google Chrome, I will just need to enter Google in the search box and Revo will filter all application that contain the keyword. I can then easily uninstall it without the need of looking for it one by one among all other installed softwares.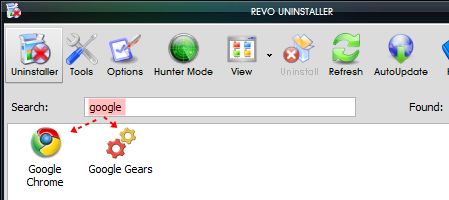 More than just an uninstaller
I personally don't use any of these bundled tools, but it can be useful if you don't already have other better programs that will do the same.
Auto Start Manager – Stop programs that start automatically on Windows startup; speed up loading of Windows!
Windows Tools Manager – Handy and useful tools bundled with every version of Windows; easily find useful system tools and options!
Junk Files Cleaner – Find and remove unnecessary files from your computer; free up disk space and delete files you do not need!
Browsers History Cleaner – Erase web browser history, visited pages history and temporary internet files of Internet Explorer, Firefox, Netscape and Opera web browsers; free up a lot of disk space by deleting temporary internet files like temporary saved videos, temporary flash files, temporary pictures etc!
Office History Cleaner – Remove the history of most recently used files in MS Office; remove your tracks by deleting the list of last opened MS Office documents!
Windows History Cleaner – Remove the history of recently opened files, delete temporary files, remove usage tracks and other history items that are saved by Windows; remove your tracks saved by Windows for a lot of operations!
Unrecoverable Delete Tool – Erase files and folders forever; be sure that nobody could recover your files and folders after deleting!
Evidence Remover – Make sure already deleted files, folders and other data are unrecoverable; securely erase your data!
Check out Revo Uninstaller's website for more information on its features.
Revo Uninstaller is available in both regular installer and portable version, supporting Windows 2000, Windows XP, Windows 2003 and Windows Vista (64-bits not supported).

[Download Revo Uninstaller]
Are there any better uninstaller that is underrated or less known?