November 29, 2008 by Vincent
Search.io—Tabbed Search Engine
No, not the tab you would see in Firefox. Whenever you perform a search on Search.io, the so-called world's first tabbed search engine, you would be able to select the category of item you are searching for. The categories available are quite extensive, from images to recipe, from jobs to css galleries.
The screenshot below shows the search result of the keyword "sheep" in the stock photos category.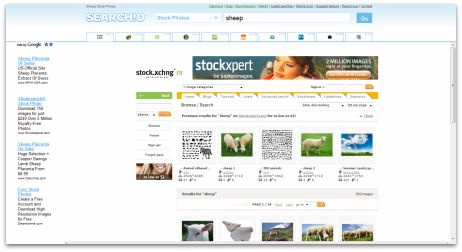 Search.io fetches results from other websites (in fact just iframe-ing) instead of having their own database. Like the above screenshot, Search.io fetches results for the keyword "sheep" from stock photos websites like Sxc.hu and iStockphoto.
This is where the tab kicks in. The first tabs are results from Sxc.hu, the second tab would be results from iStockphoto and subsequent tabs for results from other stock photo website. You can change tabs and compare results quickly by clicking on the tabs or using keyboard shortcuts (Alt+1, Alt+2 etc)
The tabs:

Search.io can be helpful when you want to search for a certain item from several different websites simultaneously. It will save you time visiting several different websites and repeating the search procedure.