December 7, 2008 by Vincent
Second Android Phone – Kogan Agora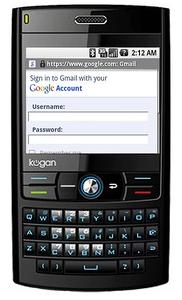 Kogan, a company based in Australia, had launched the second mobile phone powered by Google Android, namely Kogan Agora after the T-Mobile G1. Instead of following the iPhone trend, the Kogan Agora feature a smaller touchscreen and have its QWERTY keyboard positioned like a BlueBerry.
The Kogan Agora comes in two versions—pro and non-pro. The Pro version is priced at AUD $399 (around USD $260) while the non-pro at AUD $299 (around USD195).
The non-pro version is not worth mentioning as it does not come with a camera, a GPS receiver and does not support Wi-Fi. It is pointless to have a QWERTY keyboard nicely fitted and have loads of internet activities support like emailing with attachment supported and access to Google services and products—but, no Wi-Fi!

The Kogan Agora Pro definitely make more sense, with the following specifications:
2.5-inch TFT-LCD flat touch-sensitive screen.
Integrated QWERTY keyboard.
High-speed 3G network connection.
One-Touch Google Search â"¢.
Easy Web Browsing.
Easy-to-use email with attachment support for images, videos, music and documents.
Customisable Home Screen with instant Email, text message and IM notifications.
Instant access to mobile Internet services (Gmail â"¢, YouTube â"¢, Google Talk â"¢, Google Calendar â"¢, Google Maps â"¢).
Music Player.
Bluetooth® 2.0 with Enhanced Data Rate
microSDâ"¢ expansion slot for all your storage needs.
Wi-Fi network access.*
GPS navigation capability.*
2.0 megapixel camera.*
* indicates the feature that is missing in the non-pro version.
Kogan Agora hands-on:

Unlike the iPhone and T-Mobile G1, the Kogan Agora is not tied to a particular carrier, meaning it can be used with any carrier without the need of unlocking or jailbreaking.
International buyers can pre-order the Kogan Agora on this page.