December 14, 2010 by Vincent
Send How-To Videos to Computer-Illiterate Parents

Being a tech-savvy bunch, one could only imagine how much tech support the folks working in Google have to play whenever their loved ones run into the slightest issue with their computer. They feel the pain, and created Teach Parents Tech to relieve you from the same pain.


They have made some 50 how-to videos, ranging from basics like copy and paste, changing time on PC, to something more advanced like starting a blog, video chatting, and making calls from a computer.
Before you get started, you need to get two things done:
Make sure your parents already have an email address and know how to use it
Make sure they already know how to play an embedded YouTube video
Once done, you can head over to Teach Parents Tech, select some how-to videos that you think your parents would benefit from (and you indirectly), complete the email template and send it to their way.
This is how your email might look like, depending on your settings: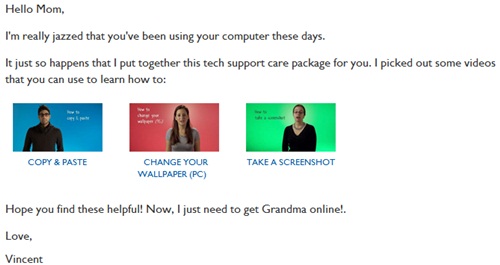 And beware, you parents might reply with
Thanks for sending me such an insulting tech support care package
I can officially describe myself as a tech ninja.
The Google folks should really make a video on "Any key".