January 7, 2011 by Vincent
Setting Global Hotkey on iTunes

Before I got my iPhone, foobar2000 was my primary music player. Which feature do I miss most after making the switch to iTunes? Not the lightweight-ness, not the components (add-ons), but the ability to control the player using hotkeys no matter what you are doing on your PC.
Say I want to watch a YouTube video. I would have to summon the iTunes window just to pause the song, then switch back to my web browser to play the video. If I were using foobar2000, I would just need to hit the hotkey to pause the song while I'm still on my web browser, making things faster and less tedious.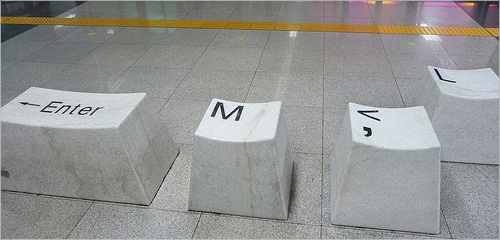 You can however compensate the missing feature by using one of these third party utility.
HKTunes
You can do nothing extra with this small utility other than assigning global hotkeys for iTunes. The user interface is definitely not the best, but considering this is a one time job, it doesn't really matter much.
Instead of typing your desired hotkey, you were to select it from a list of keys.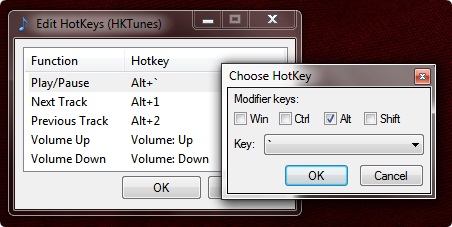 I'm using HKTunes on my PC, for I wouldn't want to install other heavier alternatives just to add such simple functionality. It uses just slightly under 4MB of memory.
You have to keep HKTunes opened the whole time you want your hotkeys to work. Pressing your hotkeys will do nothing if the program is closed.
iTunes Global Hotkeys Plugin (ighp)
Unlike HKTunes, there is no need to start another program just for the hotkeys to work. ighp is an iTunes plugin, meaning it'll be part of iTunes and will work outright whenever iTunes is on.

Download the files, place them in iTunes plugin folder (C:\Program Files\iTunes\Plug-ins), launch iTunes, press Ctrl+Shift+P, configure the keys and off you go.
I would have use ighp if it works. Too bad, iTunes will not launch with the plugin installed on my PC. Your milestone might vary though, I'd suggest giving this a try before concluding.
iTunesControl
You can do much more with iTunesControl than just assigning the usual playback global hotkeys—like searching songs from playlist (another feature I miss from foobar2000), song name display and sleep timer.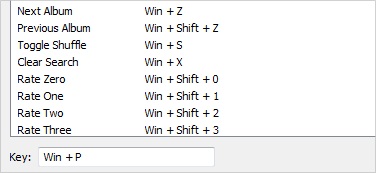 iTunesControl is still actively supported and developed. In fact, the latest version was released less than a month ago, so you won't have to worry that it will stop working when you update to a newer version of iTunes.
iTuner
iTuner is another utility that adds several extra functionality to improve your iTunes experience. You can view all its features here, which of course includes global hotkey customization.