July 8, 2010 by Vincent
SheepTech June10 Report Card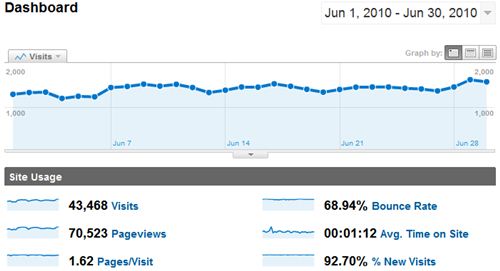 Despite of the lack of new content (will write more actively after I have cleared my last examination in August), SheepTech continues to grow, setting yet another new record in June with 43,468 unique visitors. That's a 19% increase from the previous month. Alexa ranking however declined to 217,000 despite the traffic increase. Hmm?
Money Made
Sold a sidebar widget at $100 for three months, which translate to roughly $33.33 per month. Both AdSense and Infolink see an increase in revenue.
AdSense: $380.42 (+$70.64)
Infolinks: $78.65 (+$30.83)
Private ad: $33.33 (+$33.33)
Total: $492.40 (+$134.80)
Uptime

HostGator did a very good job in June, with 99.99% uptime (just 2 minutes of downtime).
RSS subscribers got a boost from ~200 to ~300, even without any new content being posted. Puzzling yet pleasing.