June 3, 2010 by Vincent
SheepTech May10 Report Card
Traffic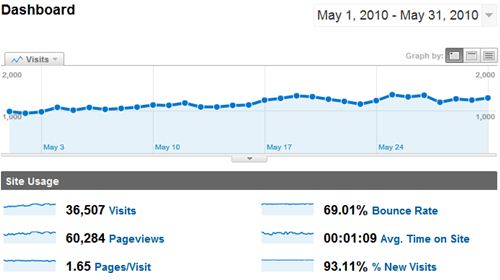 The month of May 2010 had set a new traffic record for SheepTech, with a 23% increase in unique visitors compare to last month's—from 29,742 to 36,507. Pageviews are at just over 60,000, with Alexa ranking at 201,872.

Money Made
Thanks to the traffic increase, SheepTech's revenue got a nice bump too. Figures in bracket shows the difference in earnings compared to the month before.
AdSense: $309.78 (+$76.19)
Infolinks: $47.82 (+8.49)
Total: $357.60 (+$84.68)
Uptime

Pingdom is showing 99.71% with 2 h, 10 m downtime. HostGator however claimed that there isn't any downtime for the month when I emailed them for an uptime check.
I have put minimal work on the blog for the past weeks, busy working on bigger things in life, and I don't see this ending anytime soon. Perhaps I'd be churning out new contents at a higher rate in another two or three months.
Thanks for reading 🙂