December 15, 2010 by Vincent
SheepTech November10 Report Card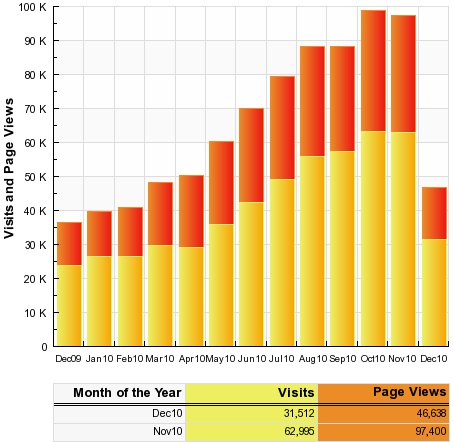 Google Analytics tracking was disrupted for four days in November while I was experimenting with CloudFlare, resulting in inaccurate traffic reporting. Data from SiteMeter will be used instead.
Visitors number experience very little change from October, at around 63,000. Alexa ranking continues to rise, from October's 139,423 to 101,956.

Money Made
Revenue went down in spite of the relatively constant traffic. Quite puzzling as it should be the opposite since the holiday season is coming.
AdSense: $711.52 (-$72.09)
Infolinks: $38.9 (-$5.67)
BlogAds: $28.70 (+$0)
Contextweb: $5.91 (+$1.65)
Private ads: $33.33 (+$0)
Total: $818.36 (-$76.11)
Uptime, RSS subscribers
Uptime reporting was also disrupted. SheepTech's uptime was not tracked directly, but was assumed to be the same as the other blog's uptime which I track using Pingdom, hosted on the same server.
The blog faced some downtime due to heavy load, resulting in HostGator suspending it for several hours, and I have no other backup solution to track SheepTech's exact uptime.
The mentioned blog's uptime is at 99.31% for November, but SheepTech definitely have much higher uptime than that.
The number of RSS subscribers is slightly higher, 588 at the time of writing but have exceeded 600 for several times in the past week.