January 1, 2009 by Vincent
TabCloser: Close all "example.com" tabs
With TabCloser, you can close all tabs of a specific domain in just 2 clicks. After installing the Firefox add-on, there will be a ""Close all example.com tabs" option when you right-click on a tab.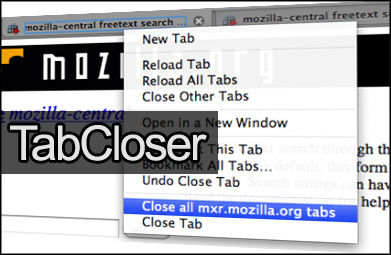 Clicking on it will instantly close all tabs of that specific domain. Say you are looking for some neat Firefox themes on addons.mozilla.org, and without you noticing, you have plenty of tabs opened just to view those themes.
Instead of closing all the tabs one by one, you can simply right-click on any of them, click on "Close all addons.mozilla.org tabs"—poof!, they will all be closed. This would be especially useful if you do research online a lot.