December 5, 2008 by Vincent
Technorati Engage Blog Ad Network Now Live
After acquiring AdEngage for less than 2 months, Technorati had started an advertising network for bloggers called Technorati Engage and it is now live at beta.technoratimedia.com. Like most other advertising network, all blogs will be reviewed manually before it is approved to be listed in the marketplace.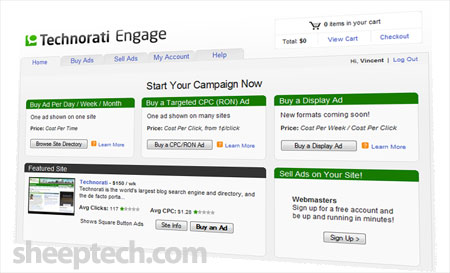 Technorati Engage offers 3 form of ad format—normal text ad, 125×125 image ad and PhoText (combination of picture and text). Unlike Google AdSense, you are free to set the size of your ad unit and customize it with CSS.
Technorati Engage works like an ad marketplace. Bloggers can price their ad spot as they wish and advertisers will select blogs that suits their liking. At the end of month, bloggers are paid 75% of the total money made, while Technorati Engage keeps 25% (read the update at the end of this post).
Payments are to be made via PayPal, check or Wire Transfer. Alternatively, you can opt to keep your money in your Technorati Engage account, which in turn can be used to advertise on other blogs.
Richard Jalichandra, the CEO of Technorati posted a comment on the Technorati Engage post on ProBlogger:
Hey Everyone,

First, thanks for 'discovering' Darren, and thanks to your readers for their valuable feedback. I thought I'd chime in.

Second, let me explain that what you see with Technorati Engage today is a private beta, so please be patient with expectations. You may have noticed we haven't announced it or promoted it because it's just that — a private beta with very limited functionality and only a handful of publishers and advertisers so that we may iron out the kinks before opening it up to everyone. We're going to being testing for a few months with a very slow ramp to ensure we get it right, and have a great service for both bloggers and marketers.

Lastly, please stay tuned, and we'll let you know when we're ready for launch. Our mission is to support bloggers and people who read blogs, and we want Technorati Engage to support that goal and you.

richard jalichandra
ceo, technorati
You can sign up and have a sneak peek even it's still in private beta – Sign Up.
Update: According to the FAQ here, the publisher will take 60% of the revenue made, but according to this FAQ, publisher takes 75%. Which is right? I have no idea.