January 1, 2011 by Vincent
Threewords.me: Testimonial in 3 Words
Remember the good old days of Friendster or MySpace, where friends can leave you a testimonial on your profile page? After everyone migrated to Facebook, no one seems to be doing that anymore.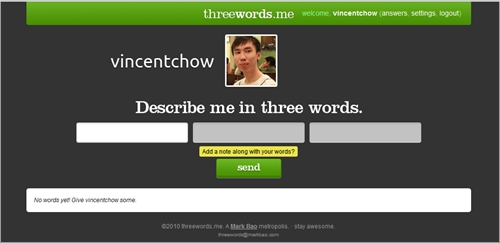 Threewords.me is not another social networking site. It serves just one purpose, for your friends to describe you in three words (optionally add a note along with the three words).
The three word description can be submitted anonymously, so you won't know who posted that lovely/nasty description about you. Also, there don't seem to be any limitation on the number of time anyone can describe the same person.
Threewords.me will accept just any three words, even NSFW languages including the F word. Combine it with the ability to post more than one description, you can only imagine how your enemy will flood your page if they ever found out your Threewords.me URL.
For damage control, you can delete description that you won't want to associate with. You can even make all the descriptions private, so that they are only available to you and not publicly.