January 20, 2009 by Vincent
Translate a Website or Phrase in a Single Click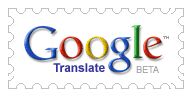 Google Translate is brilliant for one thing, it can detect the language used on a website or in a sentence. This makes total sense because if you can't read in a particular language, chances are you don't even know what language that is.
We can make use of this ability of Google Translate to easily translate just almost any foreign language into the language we want, with only a button click.

Creating Google Translate bookmarklet
To create a Google Translate bookmarklet, just simply drag the output language of your choice in the list below to the Bookmark Toolbar of your browser. Say you want a button to translate any foreign language into English, drag the "English" link in the list below to your Bookmark Toolbar.
You will now see a translate button on your bookmarks toolbar:

To use it
Say you've picked English as your bookmarklet, the next time you are on a website with foreign language, just simply click on the bookmarklet button. It will be automatically translated into English.
You can also translate just part of the website, say a paragraph or a sentence. Simply highlight or select the text you wanted to translate, then click on the bookmarklet button. The selected part will then be translated into English.