December 9, 2008 by Vincent
TuneUp Utilities 2007 – Download Free Legit Copy

It's a norm that a PC will work slower and become sluggish as time goes. With the wide availability of freewares and pirated softwares on the internet, the number of softwares installed in a computer will increase as time goes. Some people wouldn't bother to uninstall softwares they don't use at all.
Even if they do, some uninstallation is not complete and will leave traces, unnecessary files and mess up the registry. When this happens, your computer will work slower than it used to be. To speed things up again, you have to clean up your computer, and some softwares are good at this.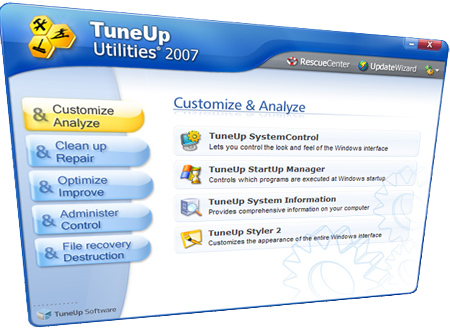 TuneUp Utilities 2007 is a commercial software that would solve the above mentioned problem. It can free up disk space by detecting and removing useless files, clean up and defrag registry, optimize and tweak your computer's settings and even changing the look and feel of your computer (not the point though).
You can now have a legit copy of TuneUp Utilities 2007 for free. Here's how:
Go to vnunet.com
Click on the button
Download and install the trial version of TuneUp Utilities 2007
Enter key: JMNCG-FKNGR-WMAMT-FRTQL-BLYJB-XDYMX
Voila!
A newer version, TuneUp Utilities 2009, is sold at £29.99. I would say TuneUp Utilities 2007 is good enough for casual users, but if you insist of getting the latest version and don't mind paying, you should still install the free copy of TuneUp Utilities 2007 first before purchasing the 2009 version—as it cost only £17.99 to upgrade for an existing TuneUp Utilities 2007 user.
The TuneUp DiskCleaner deleted 5449 files on my hard disk and recovered 3.12GB free space at my first cleanup. Pretty awesome.