January 25, 2009 by Vincent
Turn Off Screen Without Closing Lid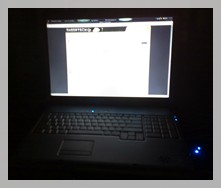 (Windows only): Turning off the computer screen can be as easy as a button press for desktop computers, but most laptops do not come with a button or even a shortcut key to do just that. If that is the case, you can either configure your laptop to turn off the display after x minutes, or simply close your laptop lid.
Both of the ways are not too practical. You won't want to have your laptop to turn off the screen half way watching a movie, nor you would want the display to stay on while you are off for lunch. I am unsure if having the lid closed while the laptop is still on will overheat it, but why take the risk when you can simply set up a shortcut key to turn off the screen whenever you want?

Download "Turn Off LCD"
Tairmur Asad (of Redmond Pie) who had the same difficulty wrote a small 85kb application to solve the problem. No installation required to get it work. Just double-click on "Turn Off LCD.exe" and poof, the display is out. Works like a charm on my Windows Vista, would work on Windows XP too if Microsoft .NET Framework 2.0 is installed beforehand.

[Download Turn Off LCD.exe / Turn Off LCD.zip] (mirror)
Create shortcut key
1. Right-click on Turn Off LCD.exe → select Create Shortcut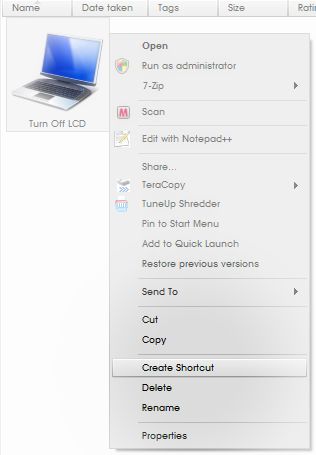 2. Right-click on the shortcut you've just created → select Properties → Specify the shortcut key you want to use in the Shortcut key field.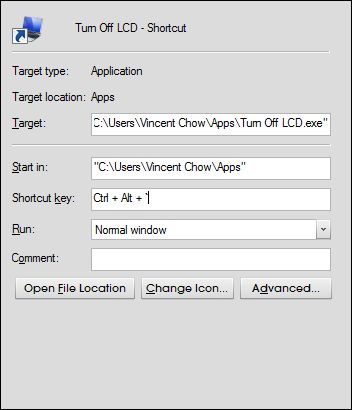 After creating the shortcut key, you can turn off your LCD screen anytime you want by pressing the combination keys you've previously specified.
P.s. In my case, I have to log off and log on again into my Windows before the shortcut key starts working.